<![if !vml]><![endif]>
<![if !vml]><![endif]>
<![if !vml]><![endif]>
Our Fifth Annual Railroad Modeling University (RMU) was held on January 22, 2011 at the Northside Baptist Church in Charlotte. This was our first all day event and over 90 people attended the many interesting sessions that covered everything from the basics (Model Railroading 101 and 102) to the advanced (DCC subjects, Signaling Your Layout, and Light, Sound, and Animation, all of which involve a certain amount of electronics).
We were fortunate to have a group of very knowledgeable presenters, including Fred Miller and Dick Bronson; Rick Knight (MR101 & 102); Roy Becker and Jim Rager explaining the mysteries of DCC; Gil Brauch showing how to create realistic scenery; Neal Anderson demonstrating/explaining how to do track laying and wiring, and David Ward informing us about railfan opportunities. Also, Marcus Neubacher described how to operate a layout just like prototype railroads, Dave Chance covered detailing and how models are judged for AP points, while Jack Parker demonstrated weathering techniques for cars and locomotives. We also had Tony Sissons leading a clinic on painting and decaling, during which he showed us some methods and materials he uses to obtain very realistic finishes on rail cars (he uses artist paints, Dull-Cote, makes his own rust powder and other unusual items). Tony's work is pure artistry, but he makes it seem relatively easy! He also modifies and adds details to basic out-of-the-box kits so that they look very realistic!
This year's event was so successful that we are considering holding an additional half-day event at another time during the year. Keep checking back on our RMU Home Page to keep up with developments in this area and our plans for next year's event.
Here are some photos of a few of the clinics in action: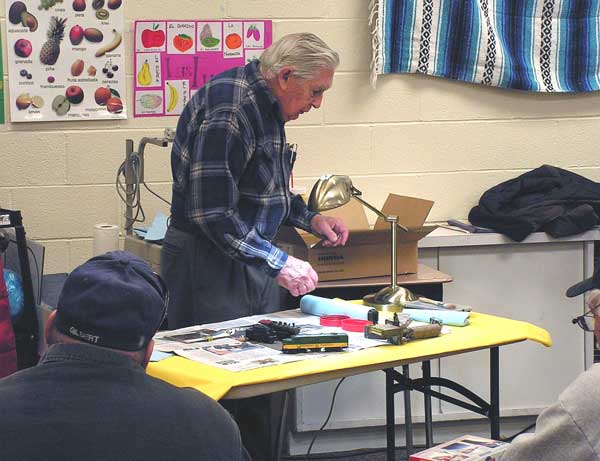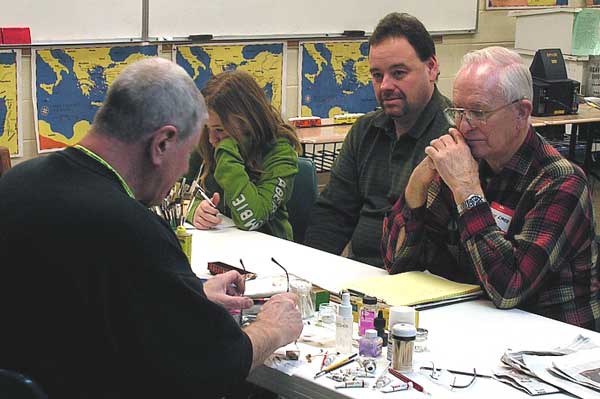 Jack Parker (L) and Tony Sissons (R) demonstrated varying ways to weather and obtain realistic finishes on locomotives and rolling stock...

... while Neal Anderson (L) holds forth on track laying and weathering and Gil Brauch (R) talks about safety while railfanning to rapt audiences.

Photos by Jack Haynes